grisaille mural on gold leaf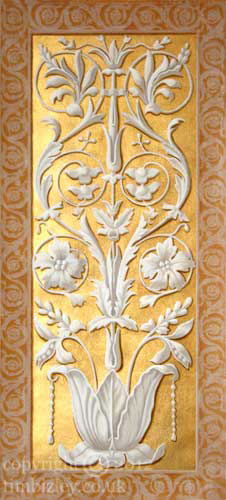 monochrome design on gilded canvas.
This grisaille ornament on gold leaf background is a painted trompe l'oeil relief. A method of decoration with a long established historical provenance. Various examples of this decorative idiom can be seen in the Vatican, numerous French chateau and Swedish grande houses. It is designed to suggest opulence and the display of power and wealth.
This example shows gold leaf being used on canvas as a ground for the monochrome work. The canvas texture shows through the gold and creates an appealing texture. I have a fascination for the juxtaposition of gold and painted grey figurative or abstract work which was so well used by artists like Mantegna.