graining wood in faux Georgian pine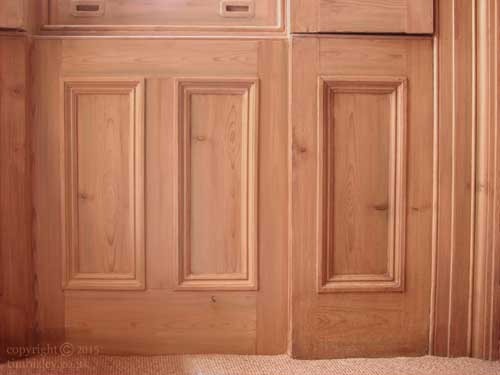 detail of antique pine woodgraining and restoration
Close up of part of woodgraining restoration to match to extant grained and panelled room. Graining in pine wood to dado panelling, sash boxes, and shutters to match extant graining work to walls done in the 1950's.
In the Georgian Period (1714-1811) Pine or Baltic Fir was imported from the Baltic and was generally from first growth Scots pines of considerable age and density the trees growing slowly in the cold climate. Boards were often wide as the trees were large and after air drying as opposed to kiln drying had good stability. The wood is dense with a fine subtle grain throughout heart and side grains.
Similar attractive qualities for Pine can be found in early imports of Pitch Pine from the U.S.A. where again old large and slow growing trees have produced highly decorative timbers in their own right. Fast grown modern versions have little in common with the interesting figure exhibited in the grain of wood from a century or more ago.